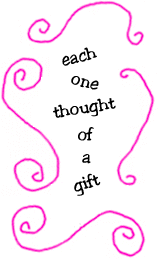 As maid of honor for my sister's wedding in May, I've got a lot to do in the coming months. One major activity is to help plan the shower, and now that a date has been selected, I've turned to my books to find out more about this festive party. Etiquette expert Lillian Eichler provided a bit of history in The New Book of Etiquette, which I've found quite informative.
1924: Origin of the Bridal Shower

There are many kinds of showers, but most popular of all is that given to the engaged girl. Friends are never so good-naturedly generous as when a young woman confides that she has given her heart in love.
The bridal shower is one of our most charming before-the-wedding customs. It is a pleasant and sensible way for friends and acquaintances to present gifts that would seem too trifling if they were presented singly. The custom has an interesting background, and its origin takes us across the sea to Holland.
Many, many years ago ~ so as the tradition runs ~ a beautiful young Dutch maiden gave her heart to the village miller who was so good to the poor and the needy that he himself had but few worldly goods. He gave his bread and his flour free to those who could not pay, and because of his goodness everyone loved him. Everyone but the girl's father. She must not marry him, he said. She must marry the man he had selected ~ a fat, horrid, wealthy man with a farm and a hundred pigs! ~ or she would lose her dowry.
The miller was sad, and the girl wept on his shoulder. The people who had eaten of the good miller's bread were sad, too. Couldn't something be done about it? Couldn't they give the girl a dowry so that she could marry their kind miller and make him happy? They didn't have much money, it is true, but each one thought of a gift that he or she could contribute.
And they came to the girl in a gay procession: one with an old Dutch vase; one with some fine blue plates for the kitchen shelf; one with strong linens made on the hand looms at home; one with a great shiny pot. They showered her with gifts and gave her a finer dowry than ever her father could! There was a solemn wedding ceremony and a jolly wedding feast, and even the father came at last to wish them happiness.
A good many years later, an Englishwoman heard of a friend who was about to be married and decided that the only gift she could afford was too slight an expression of her good wishes. Remembering the story of the Dutch 'shower' and knowing that there were other friends who felt precisely as she did, she called them together and suggested that they present their gifts all at the same time. The 'shower' that they gave was so successful that fashionable society adopted the custom, and it has remained ever since.

Source: Eichler, Lillian. The New Book of Etiquette. Garden City, N.Y.: Garden City Publishing Co., 1924.
~ pp. 82-83 ~