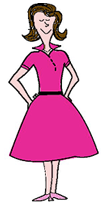 Questions about Life
While I am not currently accepting new questions to answer on the website, I am looking for ideas for topics to see discussed here, feel free to jot me a note (missabigail at missabigail dot com) and I might post something.
Questions about Buying or Selling Books
Sorry, my books are not for sale and I can't tell you how much your books are worth ~ I just know what I paid for them. Online used book shops will give you a good idea of prices, if you'd like to buy copies yourself or see what others are selling them for. I do my best book hunting in used bookshops and at library book sales, you should have good luck there, too!
Book Donations
I am always happy to accept relevant books into the collection! If you've got one to share, contact me at missabigail at missabigail dot com.
All other Questions
Miss Abigail is Abigail Grotke. Find out more about me on the About page. For all other general and media inquiries, I can be reached by email at:  missabigail at missabigail dot com.