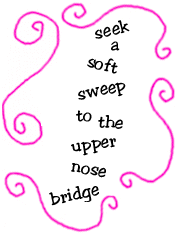 It's time to replace my spectacles, due to lost sunglass clips and an out-of-stock frame style. So while I wait for my new frames to be delivered, let's read a bit about eyeglass frame styles as enhancements to beauty. This little excerpt is from Finishing Touches, written by the lovely Candy Jones.
1961: Eyes Right, Eyes Bright, Eyeglass Frames Can Pretty Your Sight

All of us wear glasses at various times for sunning and sports as well as for aiding our eyesight. Years ago, when eyeglass frames were limited in style and shape, it was understandable for fashion- and beauty-conscious girls and women to refrain from being seen in their glasses, but not so today. The whole trick in turning a pair of eyeglass frames into a fashion accessory depends upon your knowledge of your bone structure type and the way in which the eyeglass frame can complement your appearance.
Listed below are the seven basic facial types and eyeglass frame facts.
ROUND FACE. Don't wear an obviously round frame. Select a frame that is a bit wider than the broadest area of the face (usually at cheeks or beneath eyes). Look for a nose bridge that is wide and arched in reverse to the arch of the brows. The lower edges of frames should arch in an upward curve.
SQUARE FACE. Don't choose an angular or square shape for your lenses. Avoid a frame that forms almost a straight line across the lower part. Make sure the frame is wider across than the broadest points of your jaw span. Look for a separated bridge that is arched.
LONG FACE. You can suggest more width to your face by obtaining frames that do not extend beyond the broadest area of your cheeks. Do not select a bridge too wide, nor have the frames highly arched. The bridge should be slightly curved. Avoid a definite downsweep to the outer edges of the frame.
DIAMOND-SHAPED FACE. It is necessary to avoid frames that have a highly arched bridge and those that are wider than the top part of the cheek. The popular harlequin style (modified in shape) with a generous sweep highlights width at the right place.
HEART-SHAPED FACE. Don't choose large, heavy, wide frame. As for the diamond-shaped face, look for a full lower frame that suggests a downward line to the outer jaw. The broadest part of the frame should not extend beyond the hairline at the temples. The harlequin style is not for you. Seek a soft sweep to the upper nose bridge.
TRIANGULAR FACE. Avoid any lines that play up the triangular shape of your face: high bridge curve; broadness in the lower portion of the frame. Choose an upper frame that is wider across than the broadest points of your jaw span. The lower part of the frame should stretch up, joining the gently curved, broad upper bridge line.
OVAL FACE. Don't select big, heavy, round frames with an obviously round nose bridge. The upper frame should stretch to the broadest area of the face in width.
Whenever possible, for any facial structure, allow a bit of the eyebrow to show.
Only round or square faces should wear heavily colored frames such as black or dark tortoise. As a general rule, neutral or pastel shades are the safest choice for frames if your eyeglass wardrobe is limited in quantity.

Source: Jones, Candy. Finishing Touches. New York: Harper & Brothers, 1961.
~ pp. 33-35 ~