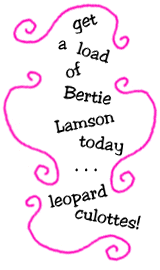 Q Dear Miss Abigail:
My job sucks because my boss thinks I'm a moron. As near as I can figure out, it's because my wardrobe lacks that business flair, and I've got tattoos. When she first hired me I had pink hair and have since dyed it a sensible brown, but I will NOT wear silk. I guess what I'm asking is if there is a polite way to tell her to go f#*k herself?
Signed,
Silky at home, but not at work!
A Dear Silky:
Sounds to me like you are yearning to be professional while keeping true to that which makes you who you are. Take a deep breath, and don't curse out your boss. Instead, pay attention as we turn to Helen Gurley Brown for a bit of wardrobe advice.
1965: Sexy at work is no problem!

If you're clever . . . you can have it all ~ success, the look of a lady and an air of devout sexiness right in the no-nonsense precincts of an office. . . .
Your aim, then, is to dress beautifully. Within that framework, what can you and what can't you get away with in an office? Aren't there some never-nevers? Yes, rhinestones, sequins, slinky-slinky black, tiers of organdy, miles of lace, clankety-clank jewels, the fragiles, the wispies and the see-throughs are out. What do you care when gone-mad colors, sensuous silks, huggy-bear wools, starchy piqués, maddening plaids, shocking chic and clothes that fit like hot wax are in? Who needs rhinestones?
There was a time, of course, when all managements preferred a little brown wren at every desk. Around 1908 it was thought dare-devil enough for girls to be in offices without calling attention to their faces and figures. Things really have changed since then, though some people aren't aware of it. In her book, Manners in Business, Elizabeth Gregg MacGibbon advises the executive secretary, "Make yourself as inconspicuous as possible." Really! What boss, pray, who has gone to the ends of the earth to hire the most dazzling girl he can find wants to have to locate her with a divining rod when he's ready to dictate? If a striking appearance really disturbed him, a girl with large mammary glands would have to wear a suit of armor, and youknow any boss with a secretary who did that would shoot himself ~ or spend his entire day keeping track of his can-opener.
Of course we don't want you to be the girl about whom men poke each other in the ribs and say, "Hey, Charlie, you ought to drop around and get a load of Bertie Lamson today . . . leopard culottes!" What we do want them to say or think about you is that you're delicious and chic and that you look good enough to eat ~ or to take to eat at Perino's or "21." 

Source: Brown, Helen Gurley. Sex and the Office. New York: Pocket Books, 1965.
~ pp. 18-19 ~