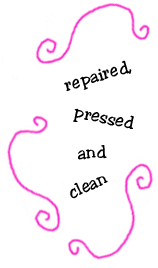 What is it about January that makes me hate my clothes so much? I blame the extra sweets around the holidays. Whatever the reason, my closet just got a bit fuller thanks to a little shopping spree today. I probably should have read the following excerpt, from Mary Lockwood Matthews' textbook Elementary Home Economics, before I left for the store. I think I may have caved into a fad or two! Oh no!
1925: The Cost of Clothing

Many persons spend more money for clothing than is necessary because they do not buy wisely; they select materials and garments that do not wear well, that fade, that are not suitable for the purpose, or that do not launder well. Persons who are careless about the care of their clothing spend more money than those who keep their clothing repaired, pressed and clean. Every girl should remember that her clothing is expensive, and should consider it her duty to take as good care of it as possible.
In order to realize the cost of clothing, it would be well for each girl to keep an account of the money she spent for her clothing each year, even though she does not buy it herself. Such an account will be begun in the 'Clothing Book.' Perhaps each member of the class will continue keeping it, so that when she begins buying her own clothing she will know the usual price of each article.
The buying of 'fads,' exaggerated styles, or novelty materials is not wise when clothing must be worn for very long periods. Fads in clothing go out of fashion quickly and must be discarded. The better plan is to select standard materials of good quality and then have the garments made in such a way that they may be worn two or even three years without being out of fashion.

Source: Matthews, Mary Lockwood. Elementary Home Economics. Boston: Little, Brown, and Company,1925.
~ p. 102 ~