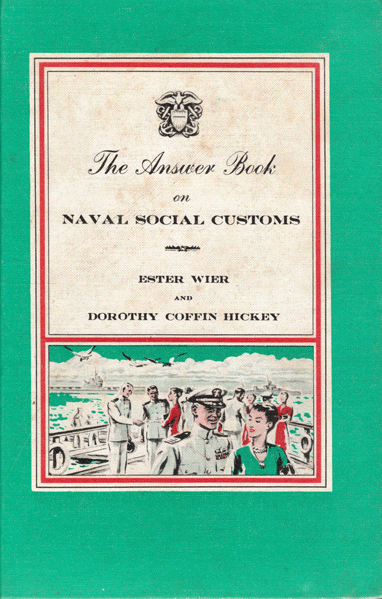 Yesterday a package arrived at the door: a book titled The Answer Book on Naval Social Customs, sent by the mother of a friend who wrote a week or so ago asking if I'd like it for the collection. She said: "It is a first edition, Jan 1956, Military Service Publishing Company.  What a kick!  These were the norms in place when I was dating young Naval officers in San Diego in the late 50's and early 60's.  I found it in a Dollar a Bag sale at the library in Bandon, OR." My kind of book! Of course I said I'd take it. This will go quite nicely with What Every Army Wife Should Know.
In case you need any tips for what to do on a naval ship, here are some excerpts from a section titles "Going Aboard Ship":

One of the privileges a Navy wife enjoys is that of visiting her husband aboard ship. She should remember that she is a guest and a civilian, that she is a visitor where work and ship's routine are being carried out, and that she is not at a social club. The ship is home to the officers on board. Therefore she should be careful not to wear out her welcome.
When may you expect to be invited aboard ship?
Usually when your husband has the duty and will have free time to spend with you. This will generally be for the evening meal, followed frequently by attendance at the ship's movie. You and your husband may be invited aboard other ships by his fellow officers.
What do you wear when going aboard ship?
If you are a dinner guest or go aboard for a visit, wear a simple afternoon dress or suit and gloves. Wear a hat if suitable with your costume. Extremely high heels or wedge shoes are not advisable as they make getting in and out of boats, climbing gangways, and walking on board ship difficult. Take a wrap if you expect to attend the movie. Panties are a must. Skirts should be neither too tight nor too full. Carry a purse with an arm strap or handle so that your hands will be free when you go up and down the ladders. It is not advisable to carry packages as they will interfere with boarding a ship.
Miscellaneous information on conduct aboard a ship.
You should not go aboard a ship without an invitation.
You should not wander about a ship unescorted.
It is against regulations to serve intoxicants aboard ship.
Do not take a camera aboard ship.
Do not take a pet aboard ship.
An officer's wife or guest should not ask any of the ship's personnel to perform a service for her. They are on assigned duty and are not there for her convenience. A wife should remember that she is not in the Navy.