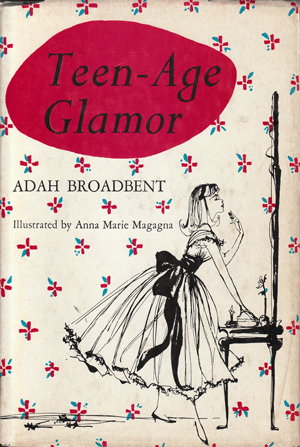 What else is there do to do on a sweltering summer day but to stay inside and blog about it? Here are some summertime tips from a book called Teen-Age Glamor, written by Adah Broadbent in 1955. These could come in handy on a day like today:

When the sun is at its zenith, and the days are at their warmest, sunlight fashions and perfect grooming transform you into a summer charmer. This immaculately crisp and cool appearance is worth capturing, so make it yours.
Never, never gasp and sigh about the heat. When the others do ~ and they will ~ you talk about something else. Any yen for arguments is controlled. Why cause your circulation to hurry?
Don't slump, don't collapse like a broken accordion in the nearest swing. No one is interested in seeing you go to pieces except Dennis the Menace. Swing, and sip your iced drinks, but there's sugar in those; the more calories, the more heat your body generates. Icy drinks also interfere with the body's normal temperature-regulating action. Cold drinks poured incessantly into your stomach are dangerous.
Eat and chatter, but don't lie around in that swing all day while the others groan, "It's too hot to lift an eyelash." Get up and move around and you are cooler.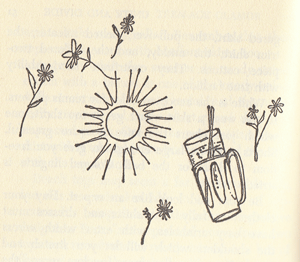 Doing things in hot weather make staying dainty a problem. Bathe and shower more often;  a lukewarm shower leaves you cooler than a cold one, which increases the circulation. Pat, don't rub dry, sprinkle talcum here and there, or spray refreshing cologne over yourself with a lavish hand. These luxuries give that fresh-as-a-daisy feeling which you intend to keep ~ at least for awhile.
Anti-persperants and deodorants are your aids. The liquid kind seems to be the surest safeguard. Make it a habit to use an anti-persperant or deodorant every night, because if it is used in the daytime any moving about may start you perspiring, and the effectiveness is washed away.
Summer clothes are made from many different fabrics, all of them was like a breeze and some need no ironing. The coolest and airiest fabrics are voile, sheer handkerchief linen, breezy batiste, and eyelet cottons; let them be crisp, not clingy.
Some colors give a feeling of coolness, as an icy blue and a pale green. Poppy and nasturtium colors are flattering to many girls, but when the weather is muggy, as well as hot, use those colors seldom.
Here's fun to you on hot sunny days!

Stay cool, everyone! I'm headed to the pool to sip cool (but not too cold, drinks) this afternoon. I promise not to complain about the heat.