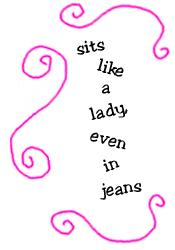 Q Dear Miss Abigail:
I've never had a boyfriend and I'm very lonely. The only boy who I liked and liked me back was in kindergarden. Only geeks like me! I'm sick of being made fun of too. People are mean to me and I feel sad. Can you could give me a quiz or something to see if I can ever get a boyfriend?
Sarah
A Dear Sarah:
Hey, what's wrong with geeks? This particular geek is not sure that a quiz will help solve your problems. As we all know, the better you feel about yourself, the more likely others will feel good about you too, yadda yadda . . . so you might consider working on that self confidence issue. But if it's questions you want, the following excerpt from On Becoming a Woman, by authors Mary McGee Williams and Irene Kane, may help you figure out if you are truly a girl that would be liked by boys. Geeks or otherwise.
1958: A Boy Likes a Girl Who . . .

It's not possible to sum up, easily, what makes one particular boy like one particular girl. It's a complicated combination of their personalities, their needs, their tastes, and sometimes the state of the weather. But it is possible to sum up, in general terms, the generally true things that make girls appealing to boys. Here's a list you might want to read several times; there may be a tip or two for you.
A boy likes a girl who …
listens …
meets his eye …
walks with a spring, not a swagger …
has a bell in her voice …
makes inexpensive clothes look cheery …
A boy likes a girl who …
puts make-up on her face, not on his collar …
isn't self-conscious about her figure, and doesn't advertise it …
wears a flower, but not the whole Botanical Garden …
draws a line between slang and profanity …
A boy likes a girl who …
smells like spring all year 'round …
is prudent, but not prudish …
smokes at home, drinks nowhere …
improves on nature, but in moderation …
sits like a lady, even in jeans …
A boy likes a girl who …
appreciates football without looking as if she could play it …
laughs, but not too loudly …
doesn't knock the rock, but admits there's room for Bach …
would rather bite her tongue than her nails …
has opinions, but doesn't think they're the only ones …
doesn't call him on the phone for no good reason …
A boy likes a girl who …
likes him more than she likes his car …
thanks the donor for small favors …
neither spreads nor inspires gossip …
follows the crowd, but not blindly …
doesn't go to the beach dressed in a pocket hankie …
A boy likes a girl who …
acts herself, instead of aping movie stars …
doesn't load his pockets with her compact, overshoes and hairbrush …
has read a book …
dances instead of yakking when she's on the dance floor …
enjoys a movie and a hamburger as much as she enjoys night-clubbing …
A boy likes a girl who …
walks in the rain, and doesn't fuss about her hair coming down …
gets up early to go fishing …
appreciates his jokes (even the bad ones) …
cares about his hobbies …
A boy likes a girl who …
looks good …
sounds good …
feels good …
walks good …
and talks good ~ but not too much …

Source: Mary McGee Williams and Irene Kane, On Becoming a Woman. New York: Dell Publishing Co., Inc., 1958
~ pp. 60-62 ~