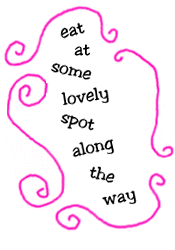 Q Dear Miss Abigail:
My boyfriend wants me to go on a trip with him ~ just the two of us. Is it proper?
Signed,
Stepping Out
A Dear Stepping:
Well, dear, I think it depends a lot on what sort of trip he's planned and exactly how long he plans for you to be away. With this in mind, it is really up to you to decide if you are comfortable going on a trip for two. If you do decide to go, I hope the following excerpt from Everyday Living for Girls helps you with your journey.
1936: What Should You Know About Traveling?

Why travel? Almost everyone likes to travel. It is fascinating pleasure. It is one of the most desirable ways of spending leisure time. New scenes, new people, a different atmosphere; better perspective, lost worries, broader viewpoints, more mellowed understanding; because of these, travel truly re-creates one. There is no better agency of education than travel. It aids one in acquiring culture, with the attending qualities of poise and good taste.
Traveling by train. Train accomodations permit traveling by day coach or parlor car, or for the overnight trip, by Pullman car. Especially for long trips, it is advisable to buy your tickets in advance. The regular fare includes a seat in the day coach. There are additional charges for a chair in the parlor car, a berth, section, or drawing-room in the Pullman car.
The new streamlined trains promise continued popularity for this mode of traveling, and probably greater comfort, convenience, and speed. . . .
Traveling by private motor. If you are invited to go on a trip in a friend's car, you should offer to pay your share. When several friends plan a trip together they should have a definite agreement about expenses. Though you pay for gasoline, oil, and other items of upkeep on the car, you will want to show your appreciation in some other way. Perhaps a gift for your hostess (something you know she especially likes) will be the thing. Perhaps you can manage a treat of a dinner, or you can take a lunch to eat at some lovely spot along the way.
You should always try to be an agreeable and pleasant traveling companion. If you are in the mood to enjoy the trip and alert to find interest and adventure in the passing scene, this adds to the enjoyment of others. Sportsmanship, the willingness to do what the rest want to do, a sense of humor, and the ability to tell a good story will help make everyone have a good time. Consideration for others, tact, thoughtfulness, lightheartedness, the doing of many little things make the way smooth.
Traveling by plane. Traveling by plane is the quickest means of travel. Plane travel is little more expensive than train travel, and it is prophesied that the airplane soon will be a very common transportation medium, both for pleasure and business.
Traveling by boat. Boat trips are memorable occasions, whether short ones on the Great Lakes and rivers, coastwise trips, or transatlantic voyages.
Dancing, games, carefree hours on deck, and new friends make such vacations most enjoyable. . . .
Relation to other passengers. Whether you travel by air, by rail, by road, or water, you should be well bred and considerate of your fellow passengers always. Your behavior should be the same whether you are going to the next town or across the continent. Do not occupy more space than that for which you have paid. Especially in a train, do not be noisy. If you wish to open a window, ask your seat companion and those near you if it is agreeable to them. If you eat anything, do it as neatly as you do at home.
If a man and woman are together on a train, the woman should precede the man down the aisle. He should open the window for her if she wishes. He should help her remove her coat and settle their luggage. On leaving the train, the man precedes the woman and helps her down the steps.
The unescorted woman of good breeding does not encourage acquaintance with strangers, either men or women. It is understandable that strangers sitting together in the train or diner will perhaps converse in an impersonal way; but one should never let conversation develop into personalities, nor tell one's intimate life history to casual acquaintances.
One will not let a stranger pay for magazines, candy, sandwiches, or any such thing. A man may suggest that a woman eat lunch or dinner in the dining-car with him. The woman may refuse politely by saying that she is not yet ready. If his company is congenial, she may accept. However, she must pay for her own meal. The end of the journey should terminate the acquaintance. Common sense dictates prudence in contacts with
strangers. 

Source: Van Duzer, Adelaide Laura, et. al. Everyday Living for Girls. Chicago: J. B. Lippincott Company,1936.
~ pp. 434, 437-38, 441-42 ~