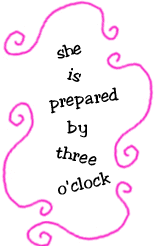 Q Dear Miss Abigail:
What was the meaning of "at home" when visitors presented a calling card? Were some people at home to visitors on designated days?
Signed,
Win
A Dear Win:
You got it, babe. Here's a little description of this long-forgotten tradition (hoorah for us). It's from a book titled Correct Social Usage, which was published in 1907 by the New York Society of Self-Culture. Eighteen people contributed to this volume, including Ella Wheeler Wilcox and Margaret E. Sangster, authors of some of the other books in my collection.
1907: Receiving Calls

Ladies who receive their callers on one afternoon of each week or fortnight, keep what is now commonly known as a 'Day at Home.' The hostess should then be prepared to receive the first callers at three o'clock in the afternoon, or after four, or exactly according to the hour specified, if one is specified, on the cards she issues at the beginning of the season. Such cards are described in the chapter on Cards, page 213 [Sorry, Miss Abigail is not including this chapter here. It's quite long!]. As a rule, the hour is not specified and the hostess may look for her very promptest callers a few moments after three and for her tardiest before half-past five. When a day at home is kept, the hostess usually prepares some light refreshment for her guests. . . .
The lady who keeps a regular day contents herself with the modest tea table beside her chair, and arrayed in a graceful high-necked, long-sleeved and slightly-trained house dress, she is prepared by three o'clock to greet her earliest callers. A hostess rises and steps forward to greet every caller, she offers her hand with cordial words of welcome and sees that the newcomer is comfortably seated near her and offered a cup of tea.

Source: New York Society of Self-Culture (18 authors). Correct Social Usage. New York: New York Society of Self-Culture, 1907.
~ pp. 191-92 ~