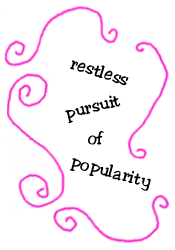 Have you ever met anyone who must constantly please people? Someone who hates confrontation and likes to obey the rules? Well, you're talking to her. I can't help myself. All of my friends like to make fun of me, and yes, I know I've got a problem. I guess it's just my good upbringing and desire to charm the pants off of people.
Here's a little something on the topic, from a book I picked up at a small shop in downtown Atlanta while traveling for my real job.
1863: The Desire of Pleasing

The desire of pleasing is natural and strong in youth. If guided to correct channels, it is an incentive to improvement, and happiness. When it rejects the motive of selfishness, and seeks only to 'please others for their edification,' it becomes a Christian virtue. This may be easily distinguished from that restless pursuit of popularity, which being the offspring of ambition and pride, ever involves some elements of disappointment and envy.
In the art of pleasing, the instruments least dependent on contingencies, are undoubtedly good manners. They are of far more importance to the young, than the adventitious distinctions of dress and beauty: more valuable than the latter, because more permanent, and more certain in their results than the former, because a style of dress which attracts once class of admirers may be repulsive to another, but fine manners are intelligible to all mankind, and a passport in every country.

Source: Mrs. L. H. Sigourney. Letters to Young Ladies. New York: Harper & Brothers, 1863.
~ p. 105 ~