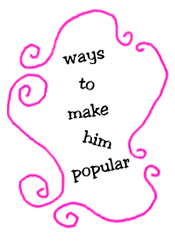 This week I bring you something a little different. What follows is the complete table of contents of Mrs. Dale Carnegie's, um, intertesting book titled How to Help Your Husband Get Ahead, which shows quite clearly how warped some of this stuff can be. This one is definitely a keeper. Only after the introduction is the author's name revealed ~ it's Dorothy, in case you were wondering. Sorry, Dale, I know she loves you, but she did write the book, after all!
1953: How to Help Your Husband Get Ahead

Part One: The First Steps Toward Success
1. Help Him Decide Where He is Going
2. When One Goal is Reached ~ Set Up Another
3. What Every Wife Should Know About Enthusiasm
4. Six Ways to Raise Your 'EQ' [Enthusiasm Quotient]
Part Two: Fundamental Techniques of Morale Building
5. Learn to Listen Effectively
6. The Two Men You Married
7. When Things Go Wrong ~ Be a Believer!
Part Three: Four Ways to Give Him an Extra Boost
8. Know His Job ~ and Lend a Hand
9. How to Get Along with His Secretary
10. Encourage Him to Keep Learning
11. Be Prepared for Emergencies
Part Four: How to Be Adaptable
12. How to Be a Happy Rolling Stone
13. Overtime Work ~ and What to Do About It
14. How to Adjust to Unusual Job Conditions
15. How to Keep from Going Crazy if He Works at Home
16. Does Your Career Conflict with His Interests?
17. Don't Be the Girl He Left Behind Him
Part Five: If You Want Him to Get Ahead ~ Avoid These Pitfalls
18. Why Men Leave Home
19. Don't Be a Buttinsky
20. Don't Try to Make Him Over
21. Don't Be Afraid to Take a Chance
Part Six: How to Make Your Husband Happy
22. 'She Was So Pleasant'
23. Share His Interests
24. Encourage Him to Have a Hobby ~ and Leave Him Alone!
25. Have Outside Interests of Your Own
Part Seven: How to Give Him a Home, Sweet Home
26. 'Just a Housewife'
27. 'So Nice to Come Home to'
28. 'I Never Waste Time'
29. Say It with Shortcuts
Part Eight: How to Make People Like Him
30. Three Ways to Make Him Popular
31. Make Mountains of His Virtues ~ Molehills of His Faults
Part Nine: How to Conserve His Health and His Wealth
32. How to Live Within His Income
33. His Life is in Your Hands
Part 10: The Greatest Contribution of All
34. Let's Raise Our Standard of Loving

Source: Carnegie, Mrs. Dale (Dorothy). How to Help Your Husband Get Ahead in His Social and Business Life. New York: Greystone Press, 1953.
~ contents page ~