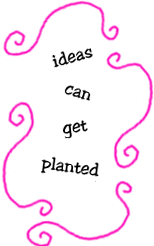 The gals and I just happened to attend a wickedly fun party last weekend. So to celebrate, here is a bit of advice from Ellen Peck's long-titled How to Get a Boy and What to Do With Him When You Get Him. The topic: flirting at parties. Not that we would know anything about that.
1969: Partygoing

Party behavior is an exaggeration of real behavior. People let themselves go. Flirts become more flirtatious. And, because they get scared by all the action, mice become mousier.
Don't be a mouse. Be flirtatious. If you do have to get sunglasses tomorrow, you can say so. But make the sunglasses comment more FUN by exaggerating a bit. Like,
'I've got to buy some sunglasses; I want a pair with a matching foreign spy to go with them.'
And now you and Neil can start talking about foreign-spy films on TV and maybe mimicking the cloak-and-dagger bit. Or, later in the evening, after you've wandered around talking to some other people (that is, boys) you can bring Neil a drink, wearing dark glasses and delivering a mock warning that the drink is poison.
Exaggerating things is just one way to be flirtatious. Here's another: be presumptuous. Nervy. Brash. Act like it's just assumed that the guy you're talking to admires you a lot more than he really does.
You and he both know you're teasing. But amidst all the teasing, some ideas can get planted. And, a guy is sure to think a girl with this much self-confidence has something to be confidentabout.

Source: Peck, Ellen. How to Get a Teen-Age Boy and What To Do With Him When You Get Him. New York: Bernard Geis Associates, 1969.
~ pp. 226-27 ~