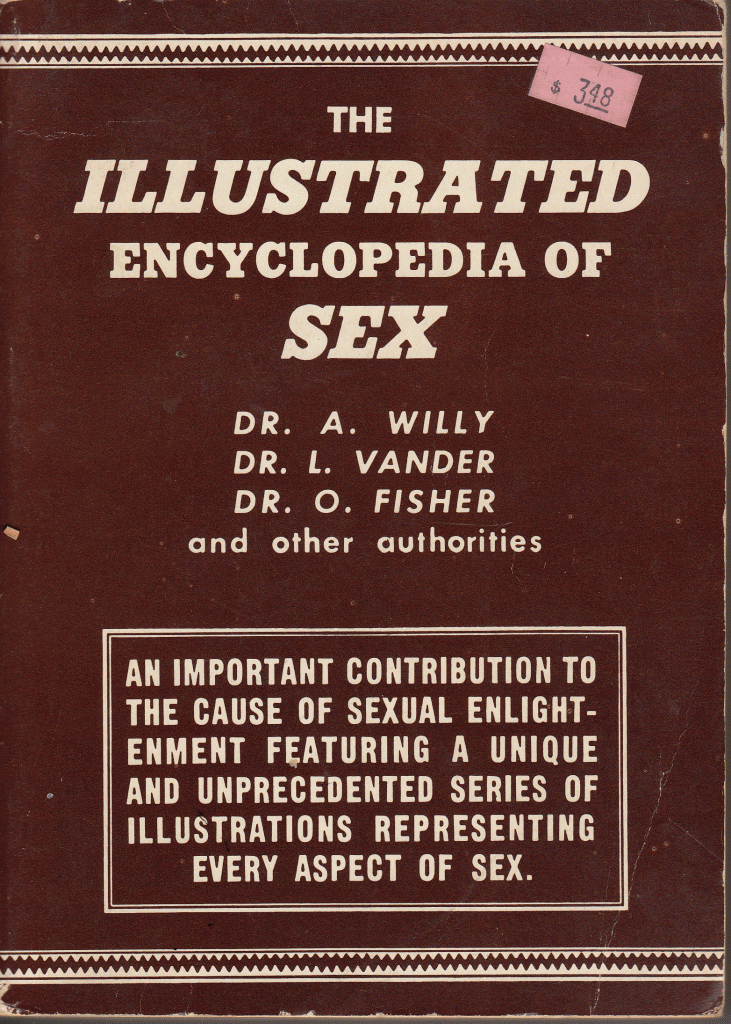 I meant to post this earlier this week, but in the D.C. region we've been overcome in the last few days by earthquakes and impending hurricanes, so it's been a bit hectic. As I reported over on my Facebook page, a few stacks of paperbacks fell off the tops of my bookshelves during the earthquake this week, but all in all we fared pretty well and the books stayed on the shelves, and the shelves remained upright. Whew! My parent's house (near the fault line), also full of books, didn't have much damage either, luckily. But still, a crazy week!
This was worth the wait, I must tell you. I've been wanting to do a post on this book for some time, but for whatever reasons over the years I thought it might be a bit too racy for a general audience. But heck, we're in 2011, and if you can't look at a 1950s book with wacko illustrations trying to explain sex, you shouldn't be on my site.
The Illustrated Encyclopedia of Sex, written by Dr. A Willy, Dr. L. Vander, and Dr. O Fisher "and other authorities" was first published in England in 1950. Revised editions appeared later, and I've actually got a paperback 8th printing from October 1977 (the first printing in the U.S.!) in my collection. The preface of this later edition discusses the "important new discovers in the field of sexology… relating to very recent developments in birth control."
I must admit I've never managed to actually read this book. Every time I open it I get so distracted by the images that I can't help myself. I think the authors would be okay with that, though. The preface explains: "there is one feature of this book of which we are particularly proud ~ the illustrations! One hundred and seventy-six of them, representing every aspect of sex, but particularly the functional aspect, and explaining every process in the male and femail organism so clearly that no one can fail to understand them. We can say, with every confidence, that this long series of illustrations, is unique and unprecedented." To say the least.
"Picture story of woman's excitation curve. The menstrual cycle of woman for two consecutive months." I'm certainly glad I didn't see this when I first got my period! I would have been terrified.
I always enjoy learning what foods might improve sexual function. The books have quite a bit of information on this topic, including this one (apologies for the faint scan, it was hard to get)."
This was in the section on birth control, but I'm not sure what I'm supposed to learn from this: "A section of the fallopian tube considerably enlarged, showing in three dimensions, the strange interior. How the spermatozoa hasten to meet the ovum which proceeds toward the uterus."

"Larger than life-size picture of interior of ovary, in woman's process of impregnation." What the heck is that in the lower right? I didn't know I had a flower growing inside of me.

Apparently this is the "Picture story of normal physical and psychological potency." I guess this is what happens when boys are making googly eyes at us ladies.
"Picture story of man at different ages." Yeah, that looks about right.
If you want a further glance at (color!) images from another edition, head on over to the fabulous Studies in Crap blog on the LA Weekly site. I found this post while Googling for more information about the book, and decided not to rescan the ones he'd featured but give you some others to look at. EXCEPT for this one, which was clearly updated for my version! I think my ladies at the top is a bit more enticing, don't you? The '70s were way more fun, clearly.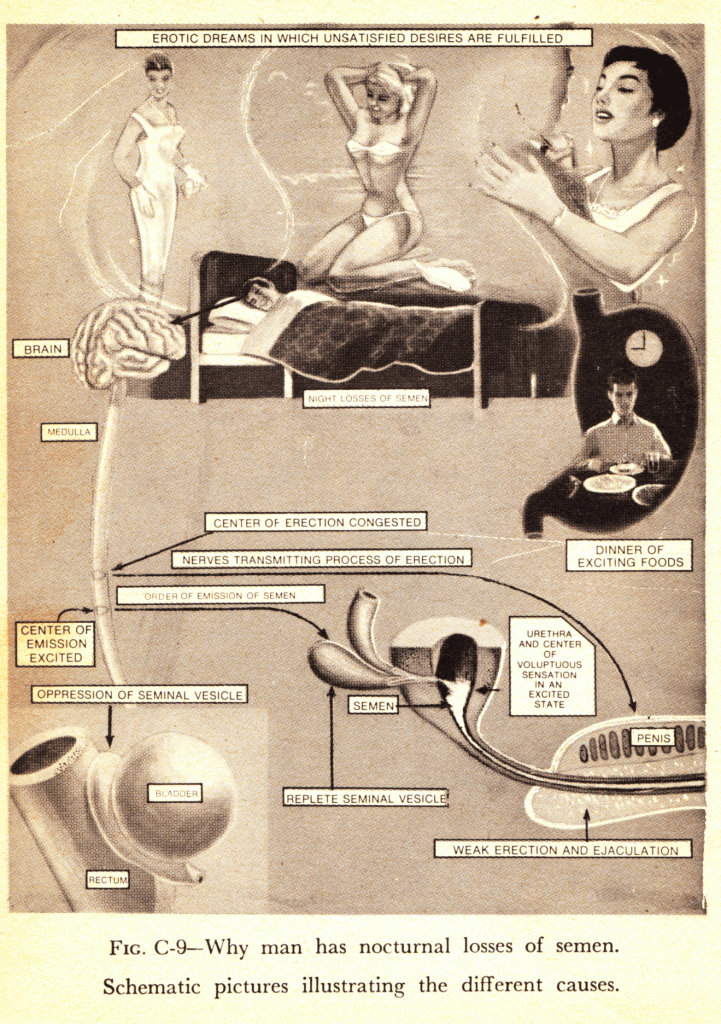 Note: post edited September 8, 2011 to redo the images. They now point off to Flickr…