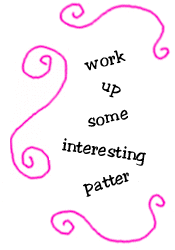 Wow! The Fun Encyclopedia certainly does cover it all: "Fun with Icebreakers," "Fun with Mental Games," "Fun Outdoors," "Fun with Music," and "Fun with Puppets," just to name a few. There is so much fun here that I didn't know where to begin, but then I stumbled across the introduction to the chapter titled "Fun with Magic," written by E. L. Crump. But beware ~ it was written in 1940, so you might want to do a little research on the addresses before mailing in your subscription checks for those magazines.
1940: Hints To Those Who Would Have Fun with Magic

The secret of success in magic is, of course, keeping the spectators from knowing how the trick is done. In order to do this the performer must practice each trick thoroughly many times before a mirror in order to perfect his technique. He must also learn how to evade the questions of his friends as to how the tricks are done. For just as soon as he tells one friend the news will spread until everyone knows the secret of the trick and immediately it will cease to be fun for the crowd. Several rules might be set down for the magician to follow strictly:
(1) Practice before a mirror each trick until it becomes natural and easy.
(2) Never repeat a trick.
(3) Never tell the audience what you intend to do.
(4) Never tell how you did a trick.
(5) Practice misdirection with your eyes. Your eyes should always look where you want the audience to look regardless of what your hands are doing.
(6) When something goes wrong, laugh and turn it into a joke, and the audience will laugh with you instead of at you.
(7) Work up some interesting patter to go with your tricks as it not only helps in the misdirection but adds to the interest of the effect.
If you wish to keep up with current magic it would be well to subscribe to some of the magic magazines of note. Four of the best are as follows:
Genii, 705 South Hudson, Pasadena California.
The Sphinx, Sphinx Publishing Corporation, 130 West 42nd Street, New York.
The Tops, Abbott's Magic Novelty Company, Colon, Michigan.
The Dragon, Vernon, East Lux, Mount Morris, Illinois.
It is impossible to cover much of the field of magic in a work of this nature. The reader, if interested, should secure some of the many fine books on magic which are available today. The following are suggested:
200 Tricks You Can Do and 200 More Tricks You Can Do, by Howard Thurman.
How's Tricks, by Gerald Lynton Kaufman.
Greater Magic, by John Northern Hilliard.
Modern Magic, by Professor Hoffman.
Magicians Tricks, How They Are Done, by Henry Hatton and Adrian Plate.
Houdini's Magic, by Walter B. Gibson.
Source: Harbin, E. O. The Fun Encyclopedia. New York: Abingdon-Cokesbury Press, 1940.
~ pp. 875-76 ~