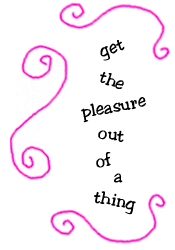 Q Dear Miss Abigail:
I have recently been offered a summer job at an amusement park running a ride. I was really psyched to take it, so I could enjoy my summer in the sun. But just today my Dad told me that they are hiring summer help where he works. The problem is that I already agreed to take the ride job, which would be fun and easy and I'd get to spend time with friends. It only pays $5.50, though, and the job where dad works will pay at least double that. I really want to take the fun job, but should I sacrifice a fun summer and take the tough job to really clear a lot of bones, or what? If I take the fun job, how do I tell my dad that I'm not interested in the job he's offering?
Signed,
Andrew
A Dear Andrew:
Ah, the age-old dilemma of taking a boring summer job versus a fun amusement park one. I feel your pain, and wish you luck as you figure out a way to tell your father you won't be taking his job. How could you? I see no choice, particularly after reading this excerpt from Dorothy Dix's How to Win and Hold a Husband. I know, I know, based on the book title it doesn't sound like it would be relevant, but trust me. Enjoy your freedom and happiness now, for you've got plenty of time to be miserable in your later years, no doubt while working at a dreary desk job.
Hey, I have an idea ~ perhaps a free season pass to the park would help convince dear old dad that you've made the right decision?
1939: Enjoy What You Have Now

Most people miss all pleasure in what they have because their whole attention is focused on wanting something they haven't got, and so they lose even the happiness they could have. Don't make this mistake. If you have health exult in it. Realize you have something to give three cheers for every minute of the day. If you have youth rejoice in it. Those who are young really don't need anything else. They are on their tiptoes already. If you have a wife or a husband whom you love, and if you have little children, be down on your knees thanking heaven for its best gifts.
It is pitiful to see strong young people throwing away the happiness they might just as well have because they are longing for automobiles or fine clothes or freedom from work or something equally silly that has nothing in the world to do with happiness. And it is still more pitiful to see mothers and fathers getting no pleasure out of their children. Worrying because they are tied down at home with babies, or because little Johnny is noisy, or the money has to be spent on having little Mary's teeth fixed instead of on golf sticks or a new frock.
And lots of foolish people put off being happy to some future time. They are going to be happy when they get rich. They are going to travel when they are old. The husbands and wives are going to enjoy each other after the children are grown up. But you can't postpone being happy. You've got to get the pleasure out of a thing now or never. And so those who have denied themselves every joy for the great splurge they intend to have when they are old find out that they have waited too long. They have lost their capacity for enjoyment.

Source: Dix, Dorothy. How to Win and Hold a Husband. New York: Doubleday, Doran & Company, 1939.
~ pp. 254-55 ~