I know that by taking the laptop on the road, and having wireless almost everywhere, I had no excuse for not giving you minute by minute updates about my whereabouts and goings-on while on my dual weddings tour and book tour, but hey, I was on vacation. What do you expect. So, continuing from where I left off with my Brattleboro Blogging post…
The Brattleboro book signing at Everyone's Books went well, with 10 or so locals plus my brother and my lovely host Phayvahn. I read from the book, answered a lot of questions, discussing with the attendees all about advice throughout the ages. Phayvahn even brought snacks. At the end of the evening, I was presented (verbally and in a handwritten note, now in my possession) with some advice from an audience member, who suggested, based on some of my commentary:
1) Consider notching up a rung or two and take your subject more seriously. Your feet are on the edge of an important life pursuit if taken to a higher level.
2) Index your books. [I was having trouble finding something in my own book]
3) Start breaking past the 1970 barrier. [my latest is from 1979]
4) Start paying more than $10 for your books. [I mostly stay under $10, but if it's really something I want I will get it for more $]
Thank you, kind sir! Miss Abigail certainly welcomes ALL advice. Even somewhat odd advice.
Oh, and the best part about the signing, was that right before, at the Brattleboro Selectboard meeting, a citizen complained about nude teenagers in the Harmony parking lot, which happened to be the lot we parked in to go to the book store. Alas we did not see any naked teens, only clothed ones, but this simple complaint to the Selectboard has turned into quite the national news. I feel special to have been there when it all began. Hmm… I'll have to see if there's any good advice about nudity in my books.
Moving on. From Brattleboro I took a train down to Springfield, Mass. to rent a car (long story) so I could drive on over to New Bedford, where I stayed with some friends. On Thursday before the signing, I was taken junk shopping where I found two pink things: a pink ice bucket to match my 1950s pink refrigerator, and my very own (pink, of course) Mark Eden Bust Developer (a previously much-coveted item owned in bulk by my tacky friend at Julie's Tacky Treasures). Oh, and I got a special, special treat – a trip to the Barbie Garden!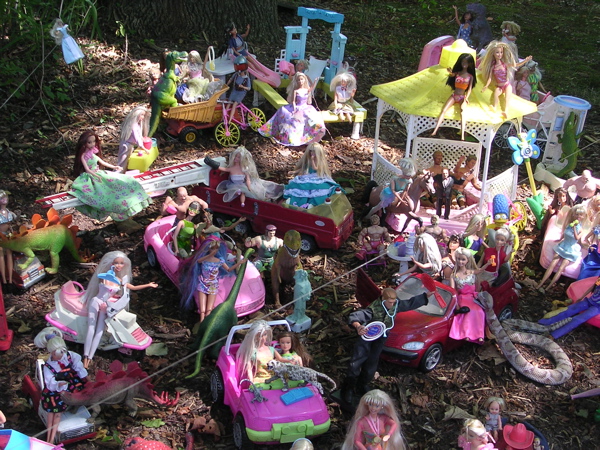 The book signing at Baker Books on Thursday night had a good showing. A few mentions in the local papers and on my university's alumni page were oh so nice. My dear, long-time friend Michelle did the honors of introducing me to the audience. Here she is, after the signing: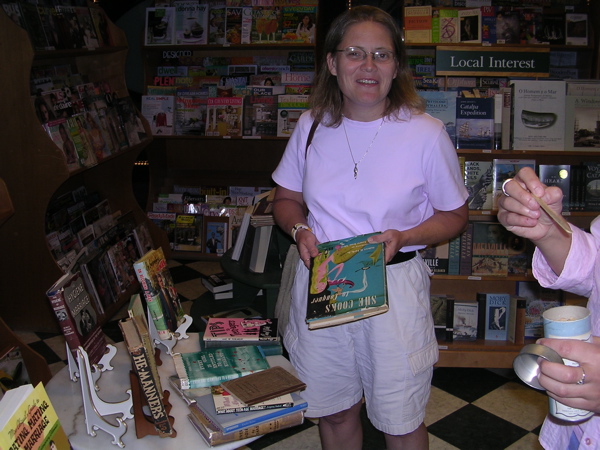 The crowd, particularly Miss Abigail's World's Biggest Fan Magoo (seen below, on right), really enjoyed book collection, and particularly the bust developer. A special thanks to Amber (on left), for her help in setting up the signing.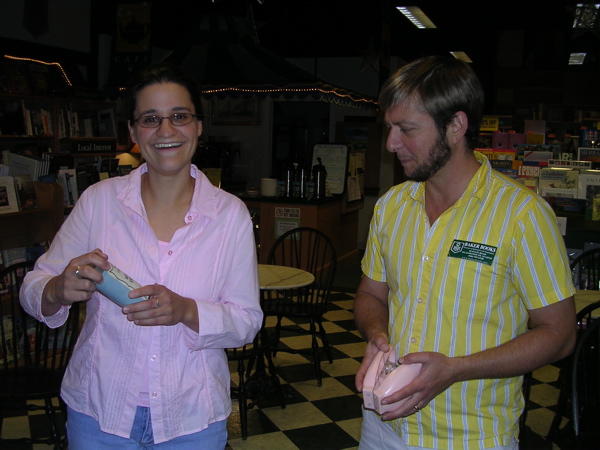 The following morning Michelle and I took a ride over to one of her favorite used book stores, and Mr. Brattleboro advice-giver will be happy to know that I spent more than $10 each on the books purchased there. These are still in my mom's van so will need to report later on my scores. After that, I packed up my books, bust developer, and more, and drove on over to Mystic, Connecticut, for wedding #2 and to drop off the rental car (thank to Aunt Nancy and Heather's brother for picking me up!). Cousin Tom and Heather's shindig was a lovely event, right on the water in Groton, and it was fun to see the other side of the family (Buffalo wedding was dad's side, Conn. was mom's).
I hopped on another train home the next day, so I could make it back to work on Monday. So now you can understand why I didn't have time to blog about this sooner. I'm still recovering!