It's been awhile but I thought I owed you a little update from Miss Abigail. I'm still here. As you may have noticed, I don't update this much any longer but the archives are all still here for your perusal and enjoyment! Check out the topics on the right or do a search for a particular topic.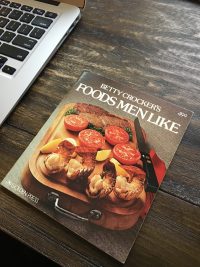 I occasionally still collect a book here or there, and have received some lovely donations, such as Betty Crocker's Foods Men Like — a wonderfully horrid 1976 guide to all the manly meals you could wish for (thanks, John!). The play, based on my book, is still occasionally appearing around the country in regional theaters. I've also still got copies of the book for sale, if anyone would like one please contact me directly; or you can still find it online.
In other news, as of February 2019, I've turned off my old Miss Abigail Facebook page after neglecting it for far too long and getting increasingly angry about the bad parts of Facebook. So if you've once exclusively read my (not so often) posts there, but have instead found your way to this site — welcome! Please do follow me on Twitter if you are inclined.
Enjoy this site!