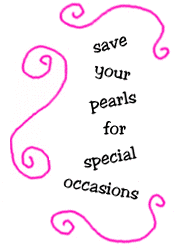 Q Dear Miss Abigail:
Is it appropriate to wear pearls during the day?
Signed,
Lisa
A Dear Lisa:
Here's a quick and dirty answer to your question, Lisa, probably not the one you wanted to hear. So feel free to rebel against society's rules, if you want, and wear those pearls. Go ahead. Do it. I promise not to tell.
1969: Jewelry ~ What and When?

A wrist watch, steel and sturdy, or simple and silver and gold, is a great convenience.
Rings, except for a simple class ring, are not in good taste for young girls. There's plenty of time later for those novelty rings ~ and wedding bands.
A simple strand of pearls, real or pretend, is wonderful to own as are a few gold chains. But save your pearls for special occasions, like parties or dances. Any beads ~ even pearls ~ get in the way in class or gym and are apt to get broken there.
An identification bracelet, silver or gold, is practical, and a charm bracelet is in good taste. Keep your charm bracelet simple and silent. Clattering charms in the classrooms, or when you're typing or playing the piano, can be distracting to you and annoying to your public.

Source: Thomas, Kay. Secrets of Loveliness. New York: Scholastic Book Services, 1969.
~ pp. 56 ~