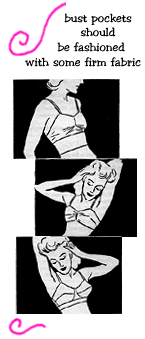 Two things I must question about these "care of" pointers: 1) This excerpt is from a book called Secrets of Love and Marriage ~ I wonder, is this really necessary for a healthy, happy marriage? and 2) The book was written and edited by men. Hmm . . .
1939: Care of the Breast

The tight, bandage-type of brassiere which was in vogue until the recent change in the mode greatly aggravated the tendency toward prolapse of the breasts. Fortunately women have awakened to this danger and styles now call for firm, rounded contours.
Attention is therefore being paid to suitable supports and the use of healthful girdles, belts, and common sense corsets.
Many women suffer from prolapse of the breasts, particularly after having nursed a child. Physicians now, thanks to the change in styles, have little trouble in obtaining the cooperation of the patients in wearing uplift bandeaus. The pendulous, atrophic type of breasts should be supported by a suitable bandeau.
Such a bandeau should be carefully fitted, and be made of slightly elastic material. The bust pockets should be fashioned with some firm fabric at the bottom of the pocket. Where the breasts are large, there should be an anchorage of fabric attached to the breast pockets, to fit snugly around the chest.
The correct bandeau should prevent sagging and subsequent ptosis. It should permit full freedom in breathing, and relieve the pendulous sensation.
Women who are dancers, frequently suffer from collapse of the breasts because of neglect in wearing uplift supports. Young mothers often neglect this attention to the care of the breasts, resulting in a sagging condition.
During pregnancy, when the breast become heavy and enlarged, a support should be worn constantly. It should not cause pressure on the nipples. Physicians prescribe a bandeau during pregnancy and nursing to prevent breast abscesses and "caking."
The use of applications involving massaging to improve the appearance of the breasts should not be undertaken without the advice of your physician. Supporters, however, usually can be fitted at the good clothing store.
Frankly, I would advise you to give your bandeau a careful inspection. Does it constrict the breasts? Do they still sag when the bandeau is in place? Are the straps too tight across the diaphragm, restricting breathing? If so, discard them and seek a more suitable bandeau.
Limp, prolapsed breasts are considered unsightly among all races. In his chapter [in The Sexual Life of Savages] on the care of the body as practised among the natives of the Trobriant Islands, Malinowski says: "Firm, well-developed breasts are admirable in a woman. Adolescent girls massage their breasts."
The savages are no different from civilized peoples in this view of personal beauty.

Source: Hendry, James Parker and E. Podolsky, ed. Secrets of Love and Marriage. New York: Herald Publishing Company, 1939.
~ pp. 177-180 ~