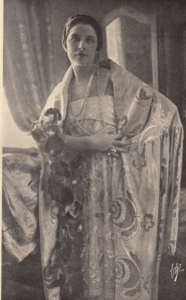 I thought I'd do a bit more research on what might be appropriate to wear this weekend at the opening of the play inspired by my book, Miss Abigail's Guide to Dating, Mating, and Marriage, or at any theatrical production, for that matter (as I'm now a season ticket-holder at Arena Stage in D.C.). I consulted with Mary Brooks Picken's 1918 book titled The Secrets of Distinctive Dress. The author had this to say on dressing appropriately for the theater: "What you should wear to the theater depends largely on the seat you are to occupy. It is perfectly correct to wear the same garments and accessories as are provided for Informal Theater if a theater box is to be occupied; and it is very much better taste to do so if the trip to the theater is not made in a private conveyance."
Ms. Picken goes on to talk more about formal wear:
~~
Rather than slavishly follow the prevailing mode, you will find that the most beautiful, and decidedly the most practical, evening clothes are those which are designed to suit you, because they can be used for more than one season.
Formal dress should depend on the beauty of fabric and color, rather than on intricate style. Informal evening dress is best when made of inexpensive fabrics, with more regard to design, for such garments are subject to harder usage than the more formal evening gowns, and as they are worn oftener they have shorter life.
If your circumstances are moderate, one evening wrap of conservative design, color, and fabric should serve you at least two years, and for all seasons except summer.
Garments of unlined silk or of knitted or crocheted silk or wool are acceptable for summer.
If you are not accustomed to attending many formal affairs and attend more afternoon than evening functions, you should select an afternoon coat of neutral tone or very dark shade, and a style and fabric equally suitable for afternoon and evening wear.
~~