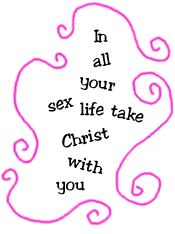 Q Dear Miss Abigail:
Being an aged person of fifteen, I had thought I had a great deal of experience with relationships. However, this morning I realized that I had NEVER HAD A BOYFRIEND! NOBODY asks me out. I am really desperate to know why ~ I am pretty okay looking if I do say so myself, I smell ok. I am not too painfully shy, and I am not a tomboy. WHAT IS WRONG WITH ME!! Is there something I'm not noticing that is turning guys off? Or am I just a late starter? Most of my friends have boyfriends.
Signed,
Sophie, Desperate and Dateless
A Dear Sophie:
You poor girl! You might as well give up. I mean, if you haven't had a boyfriend yet, I doubt you'll ever get one.
You know I'm kidding, right?
Thank you. Now let's get down to business. If you just relax and think about this period in your life as a good thing, a time to focus on you, I'm sure you'll find true love and happiness when you're, like, sixteen or seventeen. Here are some tips from a book called Christian Girl's Problems. The advice of author Bertrand Williams, according to the flap copy, is "based upon the Word of God and the power of Christ's blood to cleanse the heart which accepts Him by faith," so I'm sure he can help.
1943: Dating the Boys

'How early shall I date the boys?' you ask. Well, let me tell you about Sandra, the cutest little thirteen-year-old you ever laid eyes on. She had dark olive skin, bold brown eyes, blue-black curly hair that hung in ringlets, and had a flair for wearing the smart clothes her parents provided. Sandra attracted the boys when she was thirteen and these boys ~ some of whom were eighteen or more ~ wanted dates, but Sandra's Sunday school teacher had been her confidante and they talked it over.
'If you save your dates until you are older, won't you get a grander thrill out of the first experience?' asked Sandra's teacher. And together they arrived at the conclusion that if she waited until sixteen for her first date, and made herself attractive by building a beautiful body and becoming glamorous in the truly Christian sense, she would build a better foundation for young womanhood.
True enough, when she was sixteen, a neighbor boy saw her, loved her deeply, dated her, and for the next two years, until he was out of college, they were true lovers. The first and only boy Sandra ever kissed, outside of her family, was this lad she married last spring just before he went to the army camp.
She said, 'I never played around with all the boys in town, and I might have missed something, but you would have a hard time convincing me that I am not better off for having loved only my Dirk.'
Don't date too early, and don't become serious in your girlhood. By all means keep the boys at their distance, and when you finally date, keep your kisses as a sacred trust. Pawing and petting are out for the Christian girl who would hold her body in readiness as a gift to the lad she is to marry.
Treat your sex urges rightly while you are young, and they will be a great source of pleasure throughout life, but debase them while you are young, and they will collect a toll of tragedy for every day you live. In all your sex life take Christ with you. He alone will help you meet these problems, control the urge, and prepare you to be a future wife and mother.

Source: Williams, Bertrand. Christian Girl's Problems. Grand Rapids, MI: Zondervan Publishing House, 1943.
~ pp. 58-59 ~