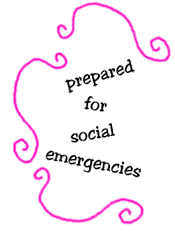 Colorado here we come! My friends and I are hopping on a jet plane this weekend to enjoy the splendor that is Southwestern Colorado. And now that I've read the following from The Seventeen Book of Etiquette and Entertaining, written by Seventeen's editor-in-chief Enid Haupt, I'm confident that we'll be the best of the best.
1963: The Best Travelers

The best travelers are:
~ open minded ~ they love new places, new friends, new experiences
~ self-reliant ~ they know at least roughly how to get where they are going; they cope tearlessly with little travel tragedies, such as late arrivals and misplaced luggage
~ organized ~ they can always find their tickets; they look neat, and so do their suitcases
~ considerate ~ they are quiet; they don't spread their belongings about on train seats which aren't theirs; they don't leave a trail of litter behind them
~ comfortably dressed ~ in wrinkle-resisting, easy-fitting clothes, in colors and patterns that don't show smudges readily. They have a sweater handy for extra warmth, a raincoat that doubles as a topcoat. They wear shoes intended to be walked in.
~ pleasing to the eye ~ on buses, planes and trains, they dress tastefully, conservatively. Girls forego shorts or slacks in favor of a skirt; they choose an easy, wrinkle-resistant skirt when a long ride on a plane or sit-up train is in prospect. Young travelers of both sexes are prepared for social emergencies: a boy has a tie, a girl has some form of head covering ~ a scarf, net bonnet, packable hat ~ for quick compliance with the custom of a restaurant, a concert, a church, an unexpected party.

Source: Haupt, Enid H. The Seventeen Book of Etiquette & Entertaining. New York: David McKay Company, Inc., 1963.
~ p. 102 ~