I swear that the color in this image is true to the original. Do you think I could adjust that brussel-sprout green? Never.
1965: Cooking for Two

THE HONEYMOON IS OVER; the die is cast. You and you only stand between your husband's and your own starvation. Either you surrender to the can-opener method of cooking, to allow you more time at the beauty parlor, or you make up your mind to follow a more rewarding path.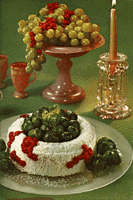 You decide to learn to cook well, to experiment and master culinary techniques, and to set interesting and nourishing meals on an attractive table.
Feeding a husband successfully starts with feeding him the things he likes to eat, for a clever bride cooks to please her man. She goes out of her way to keep mealtimes pleasant and comfortable. She knows that experts say "happy mealtimes are as important to health as proper food." And whether the meal is served informaIly in the kitchen, at the dining table by candlelight, or on trays in the living room with soft background music, the surroundings should be neat, the atmosphere one of relaxation, and there should be some special touch ~ a single flower floating in a glass saucer, a colorful napkin tied in a knot, a pretty china figurine ~ just to remind your husband how lucky he is to have "caught" you.
The menu itself should be thought out in advance to provide essetial nutrients, contrasting colors and textures, and the same element should not be repeated in two or more courses of the same meal. If the meat has a sauce with cream in it, the soup will not contain cream, neither will the dessert. If the soup contains sliced tomatoes, you will not serve broiled tomatoes with the meat or slided tomatoes with salad.
The wise young homemaker will use a touch of color on the serving plate ~ a sprig of parsley or water cress, a dash of paprika, a lemon slice, or a radish rose ~ to make the dish attractive. Varying shades of green add interest to a salad.
Beyond these common-sense rules, the sky's the limit. . . .
Brussel Sprouts in Cranberry Rice Ring
3 cups fresh cranberries
1 cup sugar
1/2 cup boiling water
5 cups hot cooked rice (1 1/4 cups raw)
1. Cook cranberries with sugar and boiling water in covered saucepan for about 5 minutes, or until cranberries pop.
2. Mix cranberries and rice and pack into a greased 8-inch mold, pressing firmly. Let stand for 5 minutes, then unmold ring onto serving platter.
3. Fill center with Buttered Brussels Sprouts as in photograph.
Buttered Brussel Sprouts
4 packages (10-oz. each) frozen California Brussel sprouts
3 tablespoons butter or margarine
Salt and pepper to taste
1. Cook Brussel sprouts according to package directions. Drain, toss lightly with butter and salt and pepper. 

Source: Enright, Evelyn and Ann Seranne. Happy Living! A Guidebook for Brides. Los Angeles: American Bride Publications, 1965.
~ pp. 185, 237, 245 ~