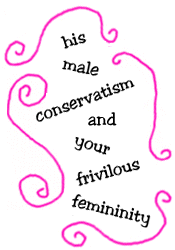 Q Dear Miss Abigail:
How do I keep sex in the bedroom?
Signed,
Tucked In
A Dear Tucked:
Hmm . . . I'm not sure why you would want that, but you must have your reasons. The books don't quite address this particular problem, so instead I suggest you take the following advice, originally given to young brides decorating a new home, and get to work sprucing up your bedroom! Make it a fun, relaxing place that everyone will want to spend time in, including your special someone.
1965: Decorating Your Bedroom

As refreshing as a good night's sleep is the sight of a cheerful, colorful bedroom that offers convenience without clutter. To achieve this result, consider first the practical and then the decorative aspects of what you are trying to accomplish.
The Practical Aspects. First and foremost, this is a room for sleeping, so be sure to buy a good mattress set in the size necessary to allow ample room. Then you are ready to think about storage.
Bedroom storage furniture comes in all shapes and sizes and answers every need for keeping one's clothes in order. . . . If bedroom closet space is limited, or there is no linen closet in the apartment, an extra piece of furniture may be necessary. Be on the lookout for "bonus" storage ~ night tables with roomy cabinets, seating benches that are also blanket chests, and bookcase headboards with sliding door compartments.
Decorative Aspects. While the cliché of the bed, dresser, chest and twin night tables may have sufficed some years ago, today's generation is intent on avoiding such a stereotyped background. Naturally, you still need a bed, some lamps and lots of drawer space ~ but no longer need all of these be from the same matched bedroom suite. Look for furniture collections that include surprising innovations, or make up your own. You can vary textures, for example, by including one or two pieces in material other than wood ~ a cane headboard, rattan blanket chest or wrought iron desk chair. A change of pace in wood finishes also makes for interest ~ one painted and decorated accent piece, perhaps.
Bedroom lighting should be free from glare, colors interesting but restful, and accessories used in moderation to avoid the "busy" feeling that may jangle the nerves. For inspiration, think of what represents a peaceful setting in your own mind, and try to capture this feeling though the medium of interior decorating. Is is a favorite lakeside retreat in spring or summer? Then a blue or green color scheme may be your choice. Do the tensions of daily living fade away from you amid Early American surroundings? Perhaps you should turn your bedroom into a bit of Americana. Do you relax best when you feel pampered and luxurious? French Provincial furniture and lush fabrics are one solution.
Dual-Purpose Aspects. If you take the trouble to set the mood for relaxation, why waste it by not using this room when you're awake? Properly equipped with a few extras, a bedroom is ideal as a second living room.
By working out a floor plan that makes economical use of square footage, you can find the right spot for one or two comfortable reading chairs, or perhaps a small table for playing cards or serving midnight snacks. A desk can be incorporated easily, either as a separate piece of furniture or part of a wall of stacking units, thereby providing a quiet corner for studying or paper work.
Even in small rooms where extra furniture is out of the question, the bedroom can be made more versatile simply by installing adequate lights over the headboard for reading in bed, and choosing night tables with slideout shelves for snacks. Add a small portable television set and you have an added attraction.
Advice to Wives. In your approach to decorating, certain compromises may be necessary so the result will be his private world as well as yours. There are men who are indulgent about the feminine yen for frills in the bedroom and others who rebel. If your husband is in the latter category, don't be insulted when he refuses to use the desk you put there just for him. If it faces those frilly pink ruffled curtains, who can blame him?
Somewhere between the pastel ruffles that make men feel silly and the austere "bachelor browns" that women find depressing lies the perfect decorating scheme. With his male conservatism and your frivilous femininity to balance each other, you can achieve better, more professional results than either of you might have done on your own, so be sure to make this a joint project.

Source: Enright, Evelyn and Ann Seranne. Happy Living! A Guidebook for Brides. Los Angeles: American Bride Publications, 1965.
~ pp. 109-12 ~