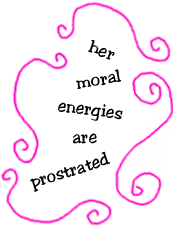 Q Dear Miss Abigail:
A man bought a number of eggs at three a dollar and as many eggs at four a dollar and sold them all at the rate of seven for two dollars, losing one dollar in the bargain. Find the number of eggs he bought.
Signed,
Sreekumar
A Dear Sreekumar:
I'm sorry ~ last week I was working and playing in New York City, and then when I got home Saturday night I went to a fabulous Halloween party. I really tried to concentrate on this problem of yours, but according to The Young Lady's Aid to Usefulness and Happiness, which was written in 1838 by Jason Whitman, I can't possibly answer your question. I need to rest for a few days, at least!
1838: Intellectual Improvement

In regard to amusements and recreations, I have sometimes thought that we overlooked or forgot the refreshment which may be derived from a mere change of pursuits. Consequently, we often fatigue and unfit ourselves for mental efforts, and destroy, for the time, our moral energies, by the exciting nature of our amusements. A young lady is often so engrossed in the anticipations of a ball or assembly, so absorbed in thought and feeling while preparing for it, and so highly excited amidst its scenes, that she is unfitted for any vigorous and profitable intellectual efforts for days after. And, then too, in the fatigue which follows, her moral energies are prostrated. Had this young lady simply danced at home, with her brothers and sisters, or with friends and neighbors who might be present, without any previous feverish anticipations, or any fatiguing preparations, it would have been a healthful and refreshing amusement. So if a young lady is fatigued with long continued study, or feels that she is in danger of neglecting to take sufficient exercise for her health, let her leave for a while her studies, and bestir herself in useful household labors, and she will find herself much refreshed.

Source: Whitman, Jason. The Young Lady's Aid, to Usefulness and Happiness. Portland, Maine: S. H. Colesworthy, 1838.
~ pp. 189-90 ~