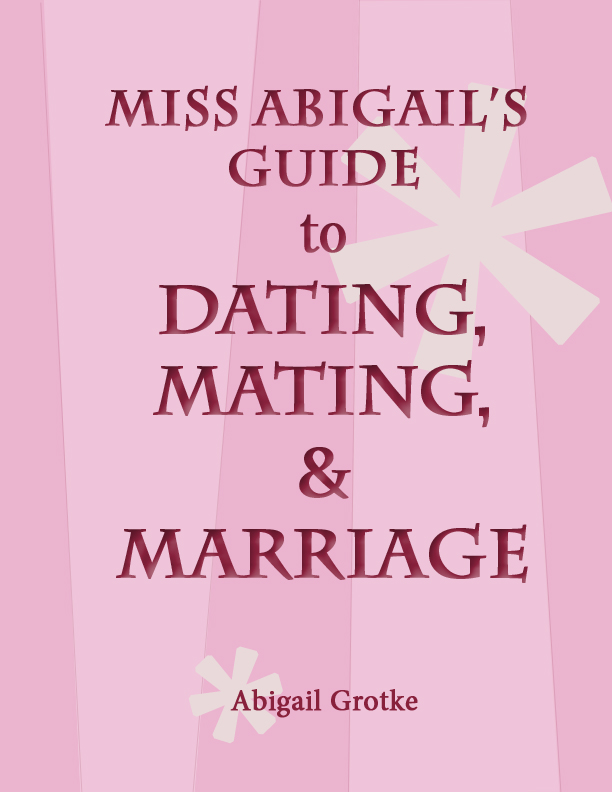 Last fall I decided to jump on the ebook wagon and convert Miss Abigail's Guide to Dating, Mating, and Marriage to electronic format. Little did I know how confusing that process might be, and frustrating at times. But ultimately I was successful, and now my book is available for your Kindle, your iPad, and your Nook (please go buy it, it's a bargain!).
During this process, I found various posts on "how to publish an ebook" from other authors helpful, so thought I would share my experiences here in case any other self-published author is considering taking the plunge and wanted to hear more experiences.
First, I consulted with my mom and stepdad who had recently converted many of my mom's book to ebook format, including her newest one. But since they were working on Windows machines and not on a Mac, like I do, I had to keep hunting for what the best tools might be for my environment. At first, the easiest thing to do seemed to load the book to Lulu or Smashwords and get them to do the various conversions needed. They also offered services to load the files to the appropriate bookstores. But the more I investigated these, I made the decision to produce it on my own. My reasons:
I had mistakenly thought that individuals like me could not directly publish to iBookstore and you HAD to use Lulu or Smashwords (not true any longer, they changed this in 2010, as long as you have a SSN!) Note: this was in the months prior to the release of Apples iBook Author software.
I realized Lulu took a cut of the price of the book on top of the cut that Amazon, iBookstore, and Barnes & Nobles takes for selling your title, and when I looked at the services offered, I realized I had the skills to do it myself.
Smashwords looked appealing but then I read in their Style Guide that they wanted you to create your file in Word, which I don't have, so I moved on.
Luckily I had my book in electronic format from when I had created the print version in 2010. However, I had been clever with book layout in the print version, and had lots of callouts and special formatting, so I had to go through the entire 268 pages and clean up (by hand) weird things that occurred when converting the file I had into something I could work with for the ebook. In addition, all of my chapter heads and headers about each quote had mysteriously disappeared upon import into Pages, so I had to retype all of that text.
Using Pages to Create an ePub File
I learned that Pages (which I had already) creates ePub files, so I started there to get my book into shape. I downloaded the template and started to play around with it. I did one chapter and then copied the file to iPad to test it out. I had to keep futzing with the layout to get it right. I took a look at how some of the "big publishers" were handling things like title pages, which don't seem to like to stay on one page in an ebook reader. I realized that some of them cheat and just include an image file as their title page.
I also noticed that the big publishers, probably since they were doing things en masse, weren't so careful or consistent with formatting. Mostly the books I'd downloaded were text only, so I guess that was not terribly surprising. But I had headers and images and distinctions between my commentary and the author's of the classic advice to try to sort out on the screen, so I did a lot of formatting, loading to my iPad, testing, reformatting, loading, etc. – you get the point – to see how things would work. I ended up moving some of the front matter like the copyright page information to the end of the book, as I'd seen in other ebooks. It took awhile to format the entire book and load the inline images (much easier than I expected and they look pretty good!), but I eventually had it how I wanted it, and was ready to move on.
Yay, My ePub is Done!  Oh Wait, I Need Another Format?
I work at a library that is trying to deal with the acquisition and management of digital materials. Although I am not one of those who is directly involved with talks about ebooks or ejournals (I focus on website preservation), I know people who are, and I know people very concerned about the preservation of digital materials. There is a lot of talk about formats in our circles. Before I started my ebook journey, I was aware that Kindle had their format and it wasn't ePub, and I knew other ebook readers had other formats, but I wasn't sure how to make all those different files. Apple help files weren't telling me. Amazon's Kindle Direct program wasn't outright telling me. I had to dig around some more, and luckily discovered the fabulous Calibre, a free and open source software that enable conversion from one type to another.
I was able to easily import my ePub file into Calibre, and convert it to the .mobi format so it would work on the Kindle. I copied the file to my Kindle to test it out. Had to go back and forth and tweak the formatting again before declaring it a success – what looked good on the iBook didn't always look great on the Kindle, so had to find a happy medium.  At some point I decided things were looking "good enough" and I could do no more with the skills I had. I'm still not sure I got the margins right – apologies to those readers who may have noticed!
Creating the eBook Cover
If you insert the cover image as the first page in Pages, it does transfer to your device and along with the file, but I quickly realized my print book cover wouldn't work as a thumbnail. I consulted with my friend Nina Tovish who designed the first cover, and based on some specs I found, I think in a forum about Lulu publishing (612 x 792 pixels, 72, 96, or 150 dpi, and a JPG)  she created the ebook-friendly version.  It was only upon uploading to the various sellers that I realized they included desired sizes/specs in their instructions. I wish this data had been more up front and obvious as we were creating the file, but I think it turned out great anyway. Yay, Nina!
What was interesting (and of course now that I've gone through the process makes complete sense) about the ebook cover is, it's less of a "cover" but more of a marketing image to use. Readers don't even see it as the first thing when opening up a new file. It's all about the first page of the book! Hard to get your mind around that when you are first starting out (at least for me).
Getting an ISBN (and Getting Grumpy About It)
I had gone through the process of getting an ISBN for my print book, so knew how to do that. I should have just bought the ten pack initially, but I was trying to save money. Doh! So I bought another singular one ("why would I possible need more?" I thought). Apple requires it for ebooks in the iBookstore, however Amazon and Barnes and Noble did not for Kindle and Nook. I neglected to read the fine print that said "If you wish to have a hard bound copy, a soft bound copy, an ePUB, a PDF, a MOBI, or even register a new version, you will need a unique ISBN for each version."
Translation regarding ebooks: in order to have your book available as an ePub AND a .mobi for Kindle, you actually should have TWO ISBNs FOR THE SAME EBOOK. I didn't realize this until AFTER I had purchased one more ISBN for my ebook. In my mind, the ebook is the unique item; the file format is not the unique item. I understand the need for different ISBNs for the hardcover, print, and digital file, but it still mystifies me why you would need to ISBNs for the same thing in different digital file formats (imagine getting one for every possible ebook file format? – this is why standards are good, people!). Needless to say I was grumpy about it and used the same ISBN in both the ePub and the .mobi file. So there!
If I get carted away by the ISBN police, will someone take care of my book collection?
Getting it Listed
I've got my book, the marketing image, and my ISBN. I decided on a price ($3.99) after googling a bit about pricing ebooks. I then set out to start getting the ebook listed so it would be available for purchase. I decided to stick with the big three:
Barnes and Noble's PubIt! program was by far the easiest, most intuitive, most friendly to use. Filled out information about the book, selected "worldwide rights" so it would be listed in other countries as well, uploaded the text and cover files, and in no time my book was listed there. I think it took only 24 hrs to appear and was automatically linked to the print version.
Amazon's KindleDirect had an established program which was fairly easy to use. Much like B&N, filled out information about the book and uploaded the files. The ebook was listed pretty quickly (about 24 hours) however a few weeks later, it still wasn't link to my print book as they said should happen automatically. A quick email with a request to link the two fixed it within a day or so.
Apple took quite a bit longer to get listed and was by far the most frustrating (sorry Apple, I really do love you otherwise!). First, I set up an account for iTunes connect, and had to fill out various tax forms and sign a lengthy agreement, etc. etc. All of that had to be "approved" and then finally I was granted the ability to upload. From there they give you instructions to download something called iTunes producer, which allows you to add metadata, add your files and required ISBN. Unfortunately there was no option for just selecting "worldwide rights" and I had to do this painstaking task of selecting each country I wanted my book to sell in, then telling them how much the print version costs (in the currency of that country – thank you xe.com) and filling out other fields. A lot of clicking, and I'm still not sure why the bother when it was so easy with the other two sites. Finally I finished that, and tried to upload, but kept getting an error. After a few days of trying, I realized I had missed a step in the ISBN registration process. It took a few days to sort out what I'd done wrong there. I tried to upload again once it was fixed, but was still getting error messages related to the ISBN for about a week. I finally removed the ISBN for my print book, which I had added in a section about "related titles." As soon as I did that, the file upload worked. Then I had to wait for iTunes to "quality review" the book, which took longer than the 7-10 days they said it would take. I finally sent an email and the next day it was done and available for sale at last. This was about three weeks after the Nook and Kindle versions were available.
Further Reflection
Well, authors – it is possible for you to do all of this without the services of another company. I can't say it was straightforward, and I really wish there were much better tools out there to create ebooks and some clearer standards, since this ebook thing clearly isn't going away. While I was waiting for the iTunes stuff to get sorted out, I heard talk of Apples big changes 'a coming to ebook publishing, but was disappointed when it was announced and I learned that their iBooks Author program was just that –   iBooks only. I don't understand why they are introducing yet another nonstandard format to the mix, when I thought they were committed to ePub (a standard! standards are good!). Sigh.
Despite my frustrations, I don't regret going through this process, and I'm thrilled I was able to have my book available for everyone who got new ebook readers for Christmas! I hope my experiences in ebook publishing will help another as they go through the process.
Good luck!
Oh, and did I mention I'd be ever so grateful if you'd purchase my book? 🙂