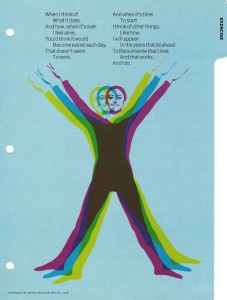 Per Lynette's suggestion, Part II of my series on excerpts from the Sears Discover Charm School book (ca. 1972 version) will focus on exercise. This chapter features none other than Olympic skater Peggy Flemming!
Peggy, take it away:
~~
A smooth flowing body. A tingle. A good feeling all over. A scrumptious look. A healthy body. There's an endless list of good things that happen to you through exercise. It should be enough to make everyone head for the nearest pair of sneakers each morning. But it isn't. A lot of people still manage to avoid exercise. Mostly because they're not quite sure about what they should do. And they never get to the point where exercising becomes a regular part of their day. That's where they get stuck. Here's how to switch things around  and get unstuck. Here's how you get going.
The first thing to do is to set aside a certain time of the day…every day…for exercise. Be a wildcat about staying with it. You might find the morning a good time because it can become part of your getting-up routine like brushing your teeth, showering and putting yourself together.
There are many different ways to exercise. Walking, bike riding, swimming, things like that are all good. And very important. But there are other exercises that are equally important. Exercises designed to zero in on certain parts of the body. These are the streamliners. They not only work for a firmer and more supple you, they also give you the kind of physical awareness that shows through when you stand or walk or move.
If you're planning a career in modeling or fashion or as a performer, these are particularly important for you since your physical appearance is so much a part of your work.
You might recognize some of these streamliners as looking like the exercises done in a ballet class. And you'd be right. I've put them into this program because I feel that ballet is probably one of the best ways to reach the hard-to-get-to muscles. The ones that don't ordinarily get worked on in other kinds of exercise. They make for that smooth and firm look and help you move easily and naturally. That's what we're after. All of this will take time and effort. But it's worth it. Don't be a softie because of excuses. Stay with it. You might find it hard in the beginning but when you start to see and feel results, it might even get to be fun.
~~
The following images are some, though not all, of the suggested exercises. I particularly like the bosom and hip and buttocks exercises. Now that looks like some fun!
This "Chart your own course" page is partially filled in by the book's original owner. She didn't follow through, it appears, so we'll never know what her finish measurements were. But you know what that means, less for you to white out and and fill in your own numbers!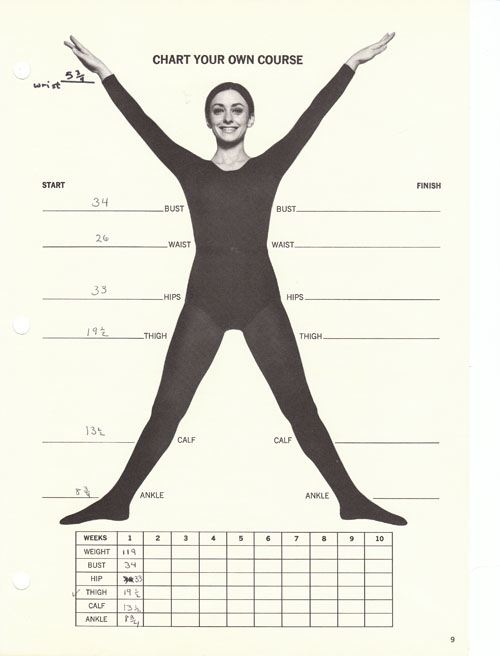 Next up in the series: Voice and Speech.