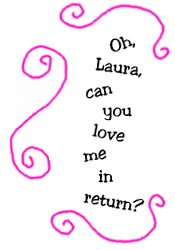 Q Dear Miss Abigail:
Hello! I'm a seventeen-year-old boy from Norway. For the first time in my life, I`ve met a girl who seems special from all of the other girls. I'm not a good-looking boy (rather normal), but she is the most beautiful girl I have ever seen. She can choose from all of the boys she wants, so what should I do to get her interested in me?
Signed,
Sad boy
A Dear Sad Boy:
Cheer up, young man! It's time to get creative and tell her how you feel. I suggest you get your pen out and send a letter. Our dear friend Professor Jefferis, in his 1911 Search Lights, or Light on Dark Corners, gives some tips for just the occasion. Though your gal will probably think you more clever if you write on actual paper and use the good old-fashioned postal service to mail it, if you choose to send an email instead, I suppose that wouldn't be so horrid.
1911: Letter Writing

Any extravagant flattery should be avoided, both as tending to disgust those to whom it is addressed, as well as to degrade the writers, and to create suspicion as to their sincerity. The sentiments should spring from the tenderness of the heart, and, when faithfully and delicately expressed, will never be read without exciting sympathy or emotion in all hearts not absolutely deadened by insensitivity.
Declaration of Affection
Dear Nellie:
Will you allow me, in a few plain and simple words, respectfully to express the sincere esteem and affection I entertain for you, and to ask whether I may venture to hope that these sentiments are returned? I love you truly and earnestly, and knowing you admire frankness and candor in all things, I cannot think that you will take offense at this letter. Perhaps it is self-flattery to suppose I have any place in your regard. Should this be so, the error will carry with it its own punishment, for my happy dream will be over. I will try to think otherwise, however, and shall await your answer with hope. Trusting soon to hear from you, I remain, dear Nellie, Sincerely Yours,
J. L. Master

To Miss Nellie Reynolds, Hartford, Conn.
An Ardent Declaration
Naperville, Ill., June 10th, 1894.My Dearest Laura:
I can no longer restrain myself from writing to you, dearest and best of girls, what I have often been on the point of saying to you. I love you so much that I cannot find words in which to express my feelings. I have loved you from the very first day we met, and always shall. Do you blame me because I write so freely? I should be unworthy of you if I did not tell you the whole truth. Oh, Laura, can you love me in return? I am sure I shall not be able to bear it if your answer is unfavorable. I will study your every wish if you will give me the right to do so. May I hope? Send just one kind word to your sincere friend,
Harry Smith
Source: Jefferis, B. G., and J. L. Nichols. Search Lights, or, Light on Dark Corners. Naperville, Ill.: J. L. Nichols & Co., 1911.
~ p. 43-44 ~