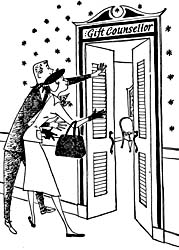 Welcome to the second annual selection of gift ideas from Miss Abigail's Time Warp Advice.
Burned out on shopping? This year I'm bringing you some ideas for gift certificates. I'm sure your loving family and friends will appreciate them more than a boring old tie or necklace.
The pictures are from my collection of books, but the captions are mine.
Happy Holidays!
~
~
~
I'm quite confident that just about any mother would delight in an afternoon appointment with a masseuse.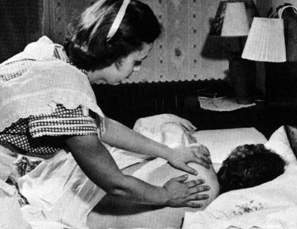 Adventure vacations are all the rage this year, so I hear. I bet dad would just love a trip to Africa!
Kids have a ball when given the opportunity to dance. How about paying for a few lessons for your favorite teen and his or her date?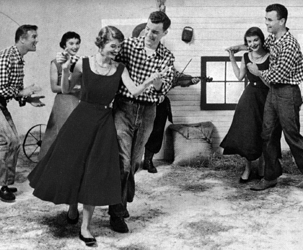 Hey Grandpa! Those grandkids sure are blowing a lot of money at the mall and on the Internet, aren't they? It's up to you to help those kids start saving. Now go out there and buy them some savings bonds. They'll thank you for it later. I promise.

And last but not least ~ if I were you I wouldn't even consider Pokemon this year. Instead, treat your favorite little boy to a trip to the hair stylist instead. He'll remember this gift ~ and you ~ forever.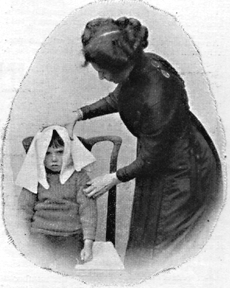 Gift Counsellor Source: Woods, Marjorie Binford and Justine Feely. Off to the Right Start in Choosing Your Household Treasures. Indianapolis, Ind.: The Bobbs-Merrill Company, 1955.
~ p. 12 ~
Massage Source: Reiff, Florence M. Steps in Home Living. Peoria, Ill.: Chas. A. Bennett Co., 1966
~ p. 99 ~
Africa Source: Source: Hopton, Ralph Y. and Anne Balliol. Bed Manners and Better Bed Manners. New York: Arden Book Company, 1934
~ p. 69 ~
Dance Source: McDermott, Irene E. and Florence Nicholas. Living For Young Moderns. Chicago: J. B. Lippincott Company, 1956.
~ p. 373 ~
Savings Source: Calvert, Maude Richman. First Course in Home Making. Atlanta, Ga.: Turner E. Smith Company,1928.
~ p. 252 ~
Haircut Source: Various. Every Woman's Encyclopedia. London, England: n.p., ca. 1912.
~ p. 5235 ~