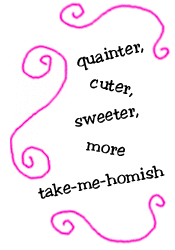 I'm heading down to my mom and stepdad's house in Florida for the long weekend, and part of the purpose of the trip (besides lounging by the pool) is to pick up my favorite childhood toy: a doll so creatively named Big Baby. She's been part of my life for the last thirty or so years, but when Mom was in town a few months ago we pondered over Big's current state of disrepair. A decision was made to carefully transport her to a doll maker relative to perform the much-needed surgery. I haven't seen her yet, but the reports are good ~ in addition to a new cloth body and stuffing, her hair has been washed and combed, hopefully hiding the choppy haircut I gave her many years ago.
All this talk of loving toys led me to the following quote, from Emily Post's Children are People. Thanks to Mom and Aunt Pam for saving Big Baby! And many thanks for not replacing her with a boring old tinkle doll.
1940: Talent for Toy Choosing

There is an especial gift which certain people have for choosing the very toy that each child loves the most of all. Buying a present for an older child is easy enough, since it is usually getting something that you can persuade him to tell you about, including the store or the catalog in which it is to be found.
But when choosing a toy for a younger child, the essential thing to do is to imagine that it is for you, and ask yourself what you are going to do with it. If it is something to look at ~ like the musical doll's head on a stick that tinkle-tinkles as you swing it around ~ it would bore you to death and make you dizzy besides. Well, that is exactly what the child will think, too. For a little baby the tinkle doll is quite all right. But not for more than a minute at that, since he can't take it in his hands or put it in his mouth or do anything but blink at it as it whirls around. For a child of two, anything with which he can make something is always delighting. I hesitate to suggest a hose to couple and uncouple, to turn on and off on a hot summer's day ~ because nothing ever made by a toy manufacturer ever met with the success of this. Next to a hose, a collection of small boxes ~ ordinary wooden boxes of the kind silversmiths use to enclose cardboard boxes for mailing, and of course blocks of almost any sort, and balls both big and little, and animals, and a wagon. Above the age of three all of the kindergarten boxes ~ mat-weaving, sewing, drawing, clay-modeling, painting, bead-threading ~ are delightful if a grown person or older brother or sister will help to keep it easy play and not an irksome task.
The 'didey doll' was perhaps the most fascinating of dolls, because of all the things that the child was able to do for it ~ bathe it, dress it, feed it, change it, wash for it.
Having rather belittled things just to look at, let me add that there are endless things that children love to look at for minutes on end ~ picture books, dolls, toy animals. But the books must have pictures that fascinate you, the doll a face that suggests a name. In fact, to give it a name when you send it is sometimes a good idea. Pigaline, a chunky bear, the elephant child, and the personable dog. . . .
In many cases, if, when you go to buy a doll or an animal, there is one that has something about it that makes you think it quainter, cuter, sweeter, more take-me-homish than anything you've ever seen, it is almost certain that the child will think so too! Why? I don't know ~ perhaps it is nonsense, but in many, many cases, and over the stretch of many years, I have found it to be true.

Source: Post, Emily. Children are People, and Ideal Parents are Comrades. New York: Funk & Wagnalls Company, 1940.
~ pp. 158-60 ~