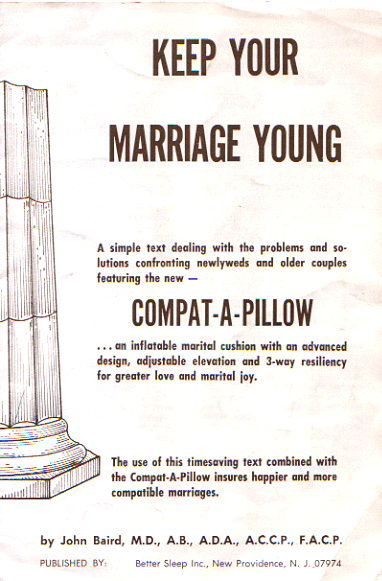 I was informed by my friend Jocelyn today that Amazon has shipped her pre-ordered copy of my book (woohoo!). So, in her honor — as the first person I'm aware of to have successfully purchased and just-about-received it — I'd like to share a little something from a small pamphlet in my collection that Joceyln had really wanted me to include in the Miss Ab book, but alas, it didn't make the cut.
The pamphlet is titled Keep Your Marriage Young. The cover describe it as "A simple text dealing with the problems and solutions confronting newlyweds and older couples featuring the new — COMPAT-A-PILLOW … an inflatable marital cushion with an advanced design, adjustable elevation and 3-way resiliency for greater love and marital joy."
There is lots of good stuff here, including sections called "Shared Love and Satisfaction," "Improving Position with Pillow Technique," "Advice to Newlyweds," "A Lesson in Anatomy," "Conquering Frigidity," and "Modesty." Unfortunately there are no other pictures (except in the anatomy section), so I can't show you what the pillow actually looked like. And much of the text is a little too graphic for Miss Abigail's public Web site sensibilities. But I will share this brief excerpt:
~~
Remember to keep the pillow on or near the bed so that it will be handy when desired. The Compat-A-Pillow has also been designed to be a very comfortable utility pillow for use as a back rest for bed reading, for elevating the head and shoulders while sleeping (placed on top or under the mattress) or for sleeping with the feet and legs raised to ease discomforts from varicose veins or swollen feet. Keep these other uses on the "tip of your tongue" if you are asked its purpose by a curious person. In some cases, try a direct answer and you may find the resultant conversation interesting.
~~
Ha! I love it. My copy is the 1968 third edition of this pamplet, published by the Better Sleep Inc., which as you can see is still going strong today. Although I don't see mention of this particular item in their current catalog, some other sites out there have it listed. Maybe you have to call, and whisper a code word into the phone or something. Or at least prove you are 18 before they'll let you order it. In any case, I'm just happy to have this pamphlet.